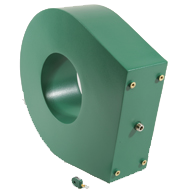 Custom Current Transformer | Custom Current Probe | Custom Current Transducer
Custom Current Toroid | Custom Current Sensor | Custom Pulse Current Monitor
Custom High Frequency Current Transformer

Accuracy ±1% or better, initial pulse response for all models, with a high impedance load such as 1 megOhm in parallel with 20 pF. A 50 Ohm termination will reduce the output to half. All models listed below come with a BNC connector except as noted and are to be used with a 50 Ohm coaxial cable. The current monitor case is conductive and not insulated. Adequate insulation must be provided on the conductor being monitored. To avoid electrical shock, do not mount or remove the current monitor from a live conductor.
STANDARD PACKAGE:




Model #



Output
(Volts/
Amp)




Hole Id.
(inches)

Time Domain Parameters

Frequency Domain Parameters


Peak
Curr.
(Amps)



Droop
(%/msec.)

Useable
Rise
Time
(nsec.)



IT Max.
(Amp-sec.)

Max.
RMS
Curr.
(Amps)

3dB
pt.
Low
(Hz)

3dB
pt.
High
(MHz)

I/f
(peak
Amps
/Hz)

10

2.0

50

700

150

0.0005

4

1,000

3

0.004

10

2.0

50

300

350

0.001

4

500

1

0.006

10

2.0

10

35,000

3

0.00005

1

45,000

125

0.00007

1

5.0

500

40

15

0.04

5

30

20

3.5

1

10.75

500

500

40

0.006

35

750

9

0.003

1

1.0

500

80

15

0.002

5

125

20

0.014

1

2.0

500

4

400

0.1

40

6

1

0.6

1

Coaxial

100

200

2

0.0004

2.5

300

200

0.0025

1

3.5

500

3

350

0.25

75

4

1

1.5

0.1

2.0

5,000

50

20

0.5

75

30

20

3.5

0.1

2.0

5,000

12

20

0.6

75

20

20

3.5

0.1

4.0

5,000

1.5

40

0.5

140

2

10

3

0.1

5.0

5,000

90

40

1

150

120

10

7.5

0.1

15.0

1,000

50

80

1.5

250

100

4

10

0.1

10.75

5,000

1.5

50

0.4

300

2

7

5.7

0.1

0.25

400

20

5

0.004

10

30

70

0.025

0.1

2.0

5,000

100

9

0.15

100

150

40

1.1

0.1

0.25

400

7

20

0.004

10

10

20

0.025

0.05

10.75

10,000

0.5

75

3

600

1

5

21.2

0.02

0.5

1,000

1

500

6

150

1.5

0.7

40

0.01

1.0

25,000

0.3

25

0.6

120

0.5

15

4

0.01

4.0

50,000

4

60

5

400

6

7

35

0.01

2.0

50,000

3

100

4.5

200

5

4

25

0.01

10.75

50,000

4

200

12

1,000

7

2

80

0.01

2.0

20,000

9

25

2

150

12

20

12

0.01

2.0

4,000

2

5

0.2

100

5

70

1.2

0.01

0.5

50,000

6

150

2

150

10

3

12

0.01

3.5

50,000

0.02

200

30

750

0.03

2

225

0.005

4.0

100,000

2

350

20

1,500

3

1

120

0.001

3.5

500,000

0.1

300

480

2,800

1

1.2

3,060

0.001

2.0

200,000

1

200

15

400

1.5

2

90

0.001

12 x 2

100,000

0.3

500

150

1,200

0.5

0.7

1,000

0.001

14.5

500,000

1.5

300

40

3,000

3

2

250

0.001

10.75

500,000

1

400

50

2,000

2

1.5

300

0.0005

4.75

1,000,000

0.2

2,000

750

3,500

0.15

0.2

3,500
CLAMP-ON:




Model #



Output
(Volts/
Amp)




Hole Id.
(inches)

Time Domain Parameters

Frequency Domain Parameters


Peak
Curr.
(Amps)



Droop
(%/msec.)

Useable
Rise
Time
(nsec.)



IT Max.
(Amp-sec.)

Max.
RMS
Curr.
(Amps)

3dB
pt.
Low
(Hz)

3dB
pt.
High
(MHz)

I/f
(peak
Amps
/Hz)

2

2.0

500

n/a

12

n/a

n/a

100,000

30

n/a

1

2.0

500

10

600

0.15

50

15

0.5

1.1

1

2.0

500

7,000

4

0.001

10

11,000

100

0.007

1

9.0

500

750

75

0.007

25

1,250

5

0.04

0.1

10.75

5,000

250

50

0.7

120

400

7

4.4

0.1

2.0

5,000

1,040

25

0.5

100

2,000

20

3

0.01

2.0

1,000

100

7

0.3

100

200

50

2.1

0.05

3.5

10,000

8

100

4

250

12

3.5

25

0.001

6.0

500,000

0.3

400

15

1,000

0.4

1

105
DOUBLE-SHIELDED:




Model #



Output
(Volts/
Amp)




Hole Id.
(inches)

Time Domain Parameters

Frequency Domain Parameters


Peak
Curr.
(Amps)



Droop
(%/msec.)

Useable
Rise
Time
(nsec.)



IT Max.
(Amp-sec.)

Max.
RMS
Curr.
(Amps)

3dB
pt.
Low
(Hz)

3dB
pt.
High
(MHz)

I/f
(peak
Amps
/Hz)

1

0.5

500

0.09

10

0.002

5

140

35

0.006

1

1.75

500

0.08

20

0.005

7.5

125

20

0.017

0.1

1.75

5000

0.8

20

0.5

100

1

20

1.7

0.1

0.5

5000

0.9

20

0.2

50

1

20

0.6

0.01

1.75

20000

0.3

20

1

150

0.5

20

3.5

0.01

0.5

50000

6

150

2

150

10

3

12

0.025

1.75

20,000

100

100

0.5

100

160

4

3
THIN MODELS:




Model #



Output
(Volts/
Amp)




Hole Id.
(inches)

Time Domain Parameters

Frequency Domain Parameters


Peak
Curr.
(Amps)



Droop
(%/msec.)

Useable
Rise
Time
(nsec.)



IT Max.
(Amp-sec.)

Max.
RMS
Curr.
(Amps)

3dB
pt.
Low
(Hz)

3dB
pt.
High
(MHz)

I/f
(peak
Amps
/Hz)

7713-03

1

0.22

100

600

1.5

0.0002

2

1000

250

0.0014

8105-03

0.1

0.22

300

50

10

0.002

6

50

40

0.013

5974

0.1

0.5

5,000

1

20

0.15

50

2

20

0.6

8500

0.1

2.0

5,000

4

20

0.1

75

10

20

0.6

8445

0.1

2.0

5,000

4

20

0.1

75

10

20

0.6

8568

0.01

0.5

25,000

0.4

25

0.4

100

0.8

15

2.5

8532

0.01

1.0

10,000

0.5

25

0.5

100

0.7

15

3

7765

0.01

2.0

20,000

1

25

0.25

150

1

20

1

6535-03

0.005

0.22

5,000

1.5

20

0.04

30

2.5

20

0.25
---
Accuracy ±1%, initial pulse response for all models unless otherwise stated, with a high impedance load such as 1 megOhm in parallel with 20 pF. A 50 Ohm termination will reduce the output to half.
Droop: For a flat top current pulse, the output voltage decays toward zero. Initially, the decay appears linear and the slope is referred to as the droop rate.
Usable Rise Time: If the 10 to 90% rise time is greater than the specified usable rise time, initial overshoot will be less than 10% of the pulse amplitude.
†= Type N Connector